The Many Faces of McLeod Heroes
From the Midlands to the Coast, McLeod employees stand strong and face the new challenges of today's world – we call them McLeod Heroes. More than 15,000 team members at McLeod serve patients in a variety of roles. Whether providing medical care or working tirelessly behind the scenes, each person's contribution is valuable. Here are some of those heroes.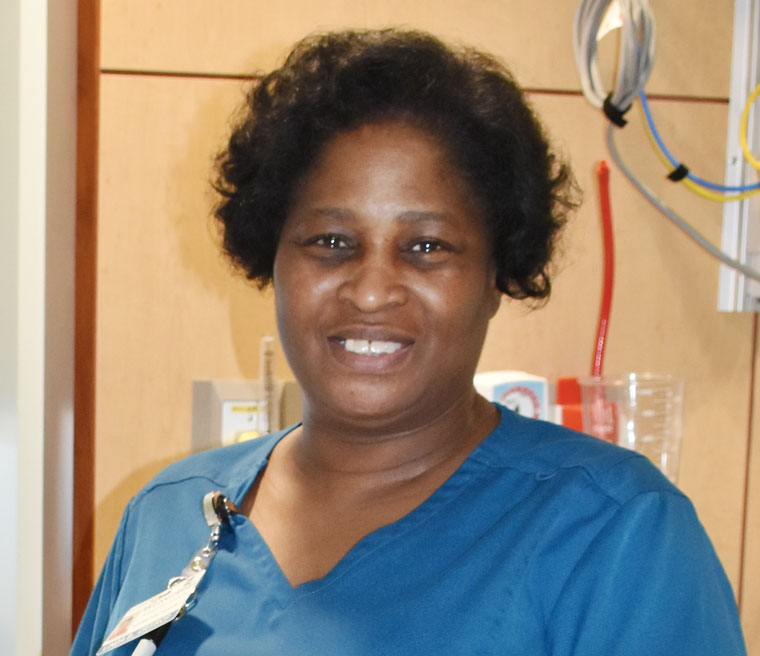 Linda has been a member of the respiratory department for 20 years and watched the services of the hospital expand to meet the growing needs of the community. Linda cares for patients who experience difficulty breathing or suffer from a chronic respiratory disease. Airway access is also crucial for patients experiencing a heart attack or stroke.
Respiratory Therapists played a vital role in the care of COVID-19 patients over the past two years and are an essential part of the medical team.
"The pandemic had a huge impact on every Respiratory Therapist in the world. COVID-19 has left some patients with long-term respiratory problems, and it is my job to help them achieve the best possible outcome. Seeing patients who suffer from respiratory illness improve and return home brings me great joy."
Linda Buskey
Respiratory Therapist
McLeod Health Clarendon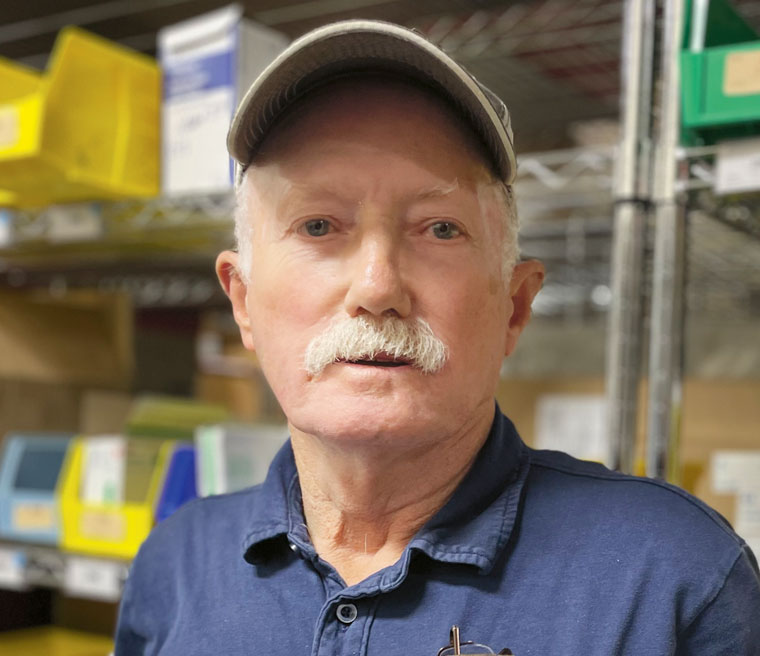 Earl has worked in the Procurement Department for almost 25 years. In his role, he receives supplies and deliveries that come to the hospital. He ensures the warehouse has appropriate stock and packages are delivered timely.
"Our clinical staff is busy taking care of patients, so this is my opportunity to take care of them. I know they have a lot on them. Making sure we have what they need on the shelves, when they need it, is important.
"If something arrives from FedEx that I know is important to the operating room team, I get it to them as soon as I can. The pandemic has created a lot of challenges in the supply chain. Every day we are working to ensure we have substitutes for other items we cannot stock."
Earl Edge
Specialist, Procurement Services
McLeod Health Seacoast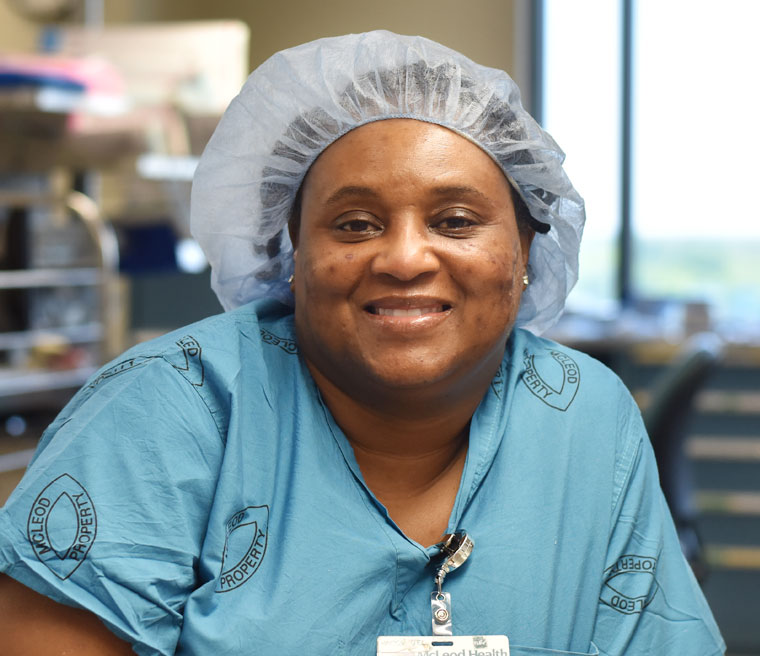 The Central Processing staff play a critical role in preventing infections by cleaning, high-level disinfecting, assembling, sterilizing, storing and distributing patient reusable items.
"Our priority is always the patient. Even though we are not standing at the bedside, our work touches all areas of the hospital and directly affects patient outcomes. Any reusable stainless-steel item involved in patient care anywhere on this campus – from physical therapy to special procedures or the Emergency Department – comes through Central Processing. We have a great impact on keeping the infections down for all patients, not just surgical patients."
During the pandemic, Sharon and her team were also tasked with entering COVID areas and obtaining masks to re-sterilize, making masks during the time when supplies were limited and working in other areas throughout the hospital when needed.
"The pandemic has certainly presented challenges, but our team's dedication to quality and safety remains unchanged. We pour our hearts into our work, and we consider it a privilege to ensure the safety of our patients."
Sharon McFadden
Surgical Technologist, Central Processing
McLeod Regional Medical Center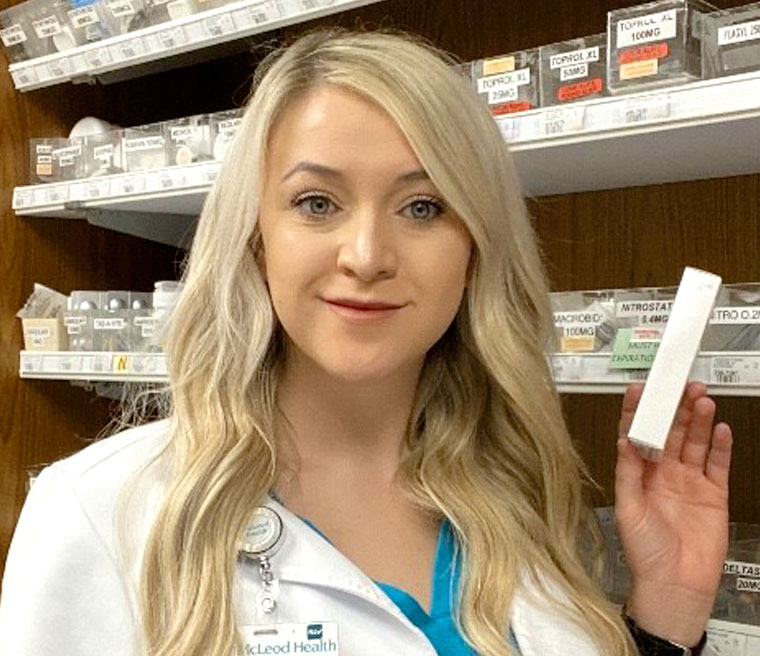 "As a Pharmacist, I evaluate each patient's medication profile to confirm the medications prescribed to the patient are the correct ones, given at the correct dose and at the proper times. I also help monitor the supply of medications used in the hospital and purchase what is needed."
Kacey prepares and delivers medications to patient care areas and supports other staff members by making sure they have what they need for their patients.
"The pandemic has impacted our drug supply tremendously and many of the medications that we need are in short supply. Our team works to find alternative drugs to avoid any interruptions in treatment. With many medications being authorized for emergency use to treat COVID-19, continually educating myself is critical to ensuring that they are being used safely and effectively."
Kacey Gainey
Registered Pharmacist
McLeod Health Cheraw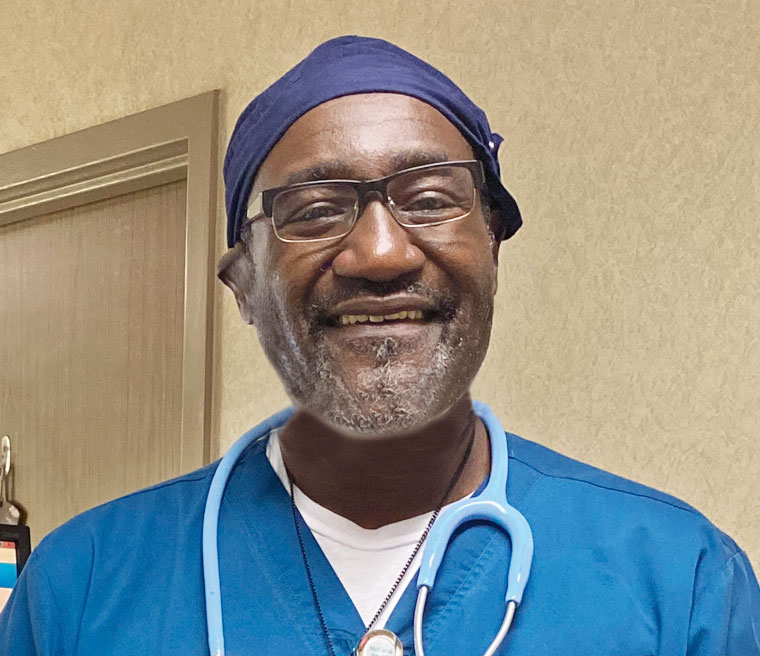 Alphonso is a Respiratory Therapist at McLeod Health Dillon and finds great reward in helping his patients feel better.
"The pandemic has been a difficult time, and we have seen many dark days at the bedside. We rallied together as one to care for our patients, many of whom were very sick."
Part of this work included consistent staff huddles which allowed them to discuss best practices and prepare for new developments. His team also used this time to support and pray for each other.
Alphonso Wall
Respiratory Therapist
McLeod Health Dillon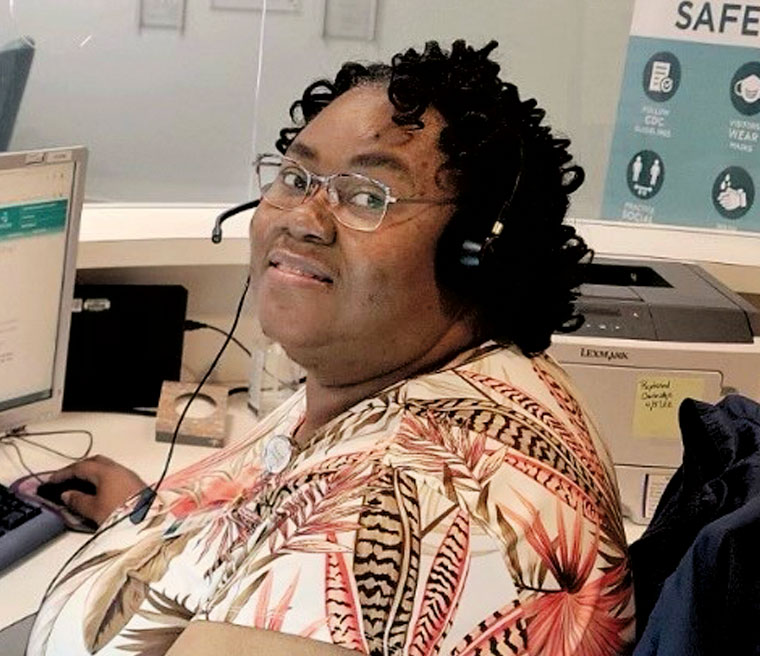 "Thank you for calling McLeod Health Loris, this is Dale, how can I help you?" Every caller who is greeted with that warm and friendly voice knows they are in good hands. In addition to handling the phones, Dale also greets patients and visitors and assists them with wayfinding.
"I enjoy my job and meeting new people every day. I always try to make them feel welcome and help them find where they need to go. I want them to feel good when they leave here."
Dale knows most visits to the hospital can be stressful, so being as friendly as she can helps make their visit a little bit easier.
During the pandemic, Dale also helped her co-workers when she could. Staffing shortages and inclement weather prevented McLeod Regional Medical Center from having enough operators to handle the volume of calls they were receiving one weekend. Dale came into work at McLeod Health Loris and helped answer the phones. "I try to think about how I would want to be treated and do the same," said Dale. "COVID has affected all of us in different ways. We just have to be willing to help whenever we can."
Dale Campbell
Switchboard Operator, Telecommunications
McLeod Health Loris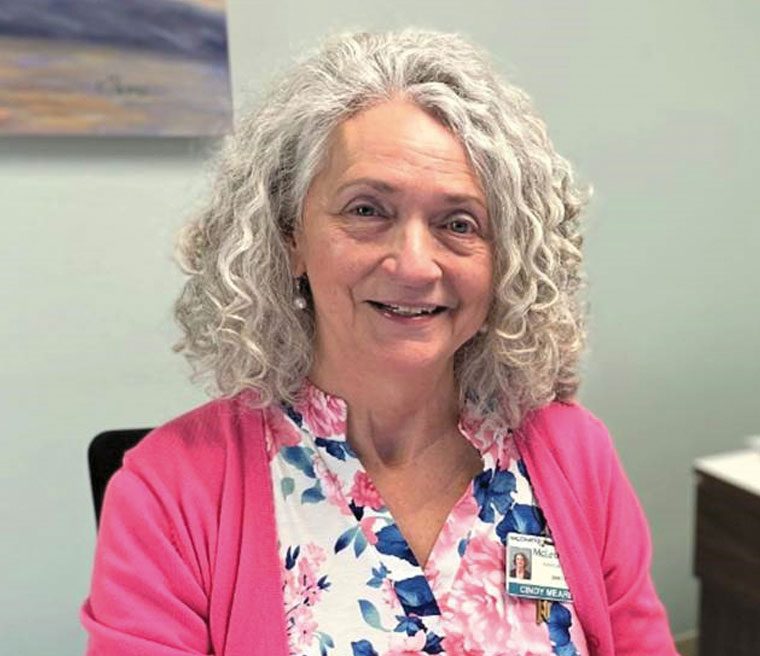 "As Director of the Medical Records Department, I monitor and ensure compliance with federal and state laws as well as make certain our policies and procedures are in accordance with the requirements of regulatory agencies.
"When patients need their records sent to another entity, they call us. Whether it is for a doctor's appointment, insurance, or legal matter, we send the charts when requested, abiding by the Health Insurance Portability and Accountability Act (HIPAA) guidelines."
The most rewarding part of Cindy's work is putting a smile on the face of a patient or fellow staff member by locating that hard-to-find document they so desperately need.
"Even through COVID-19 we continued to meet the needs of our customers."
Cindy Meares
Director of Medical Records
McLeod Health Cheraw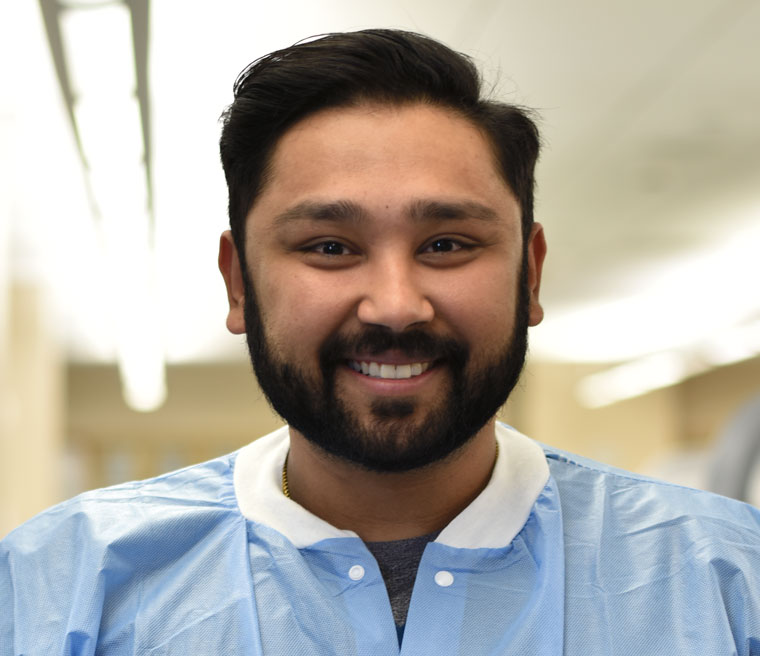 "Our profession is somewhat like a behind-the-scenes detective in the health care industry. We are responsible for operating and maintaining the equipment used to analyze specimens and ensuring that tests are completed in a correct and timely manner."
The pandemic had profound impacts on the Laboratory, especially the Microbiology Department. However, the pandemic also shined a light on the importance of their work.
"Our workload increased with COVID-19 testing as we moved to performing all COVID-19 tests in-house to help decrease the turnaround time for our patients and the community.
"Working in healthcare is one of the most rewarding career choices. Even without having direct contact with our patients, knowing that I also make an impact on patients' lives brings me joy."
Urval Patel
Medical Technologist, Laboratory
McLeod Regional Medical Center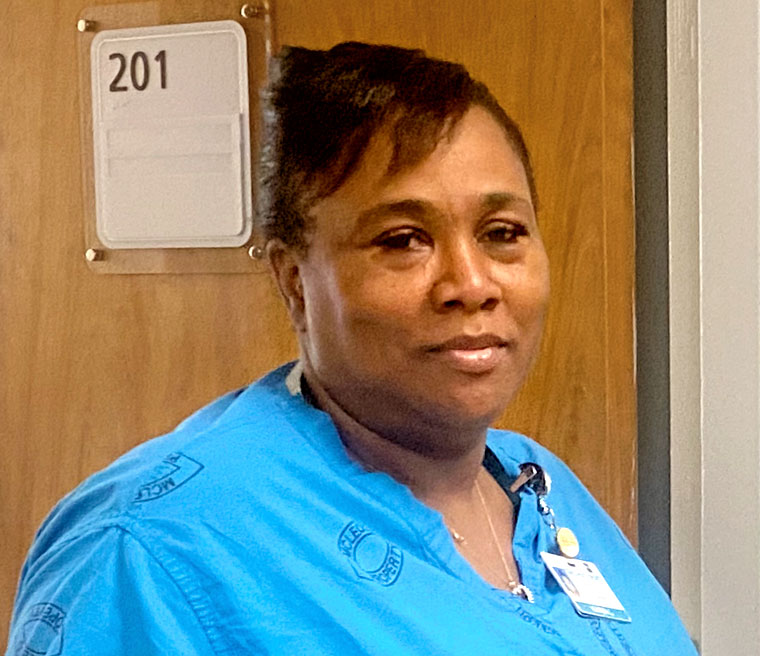 As a Supervisor in Environmental Services, Karen does more than clean patient rooms – she makes sure their room feels like home.
"Each time I think about the fact that I could be in that bed and what I would want if I was a patient. I try to go above and beyond. When my mother was sick, I saw what she went through. I want to do whatever necessary to make our patients happy."
Karen's outgoing personality and friendly demeanor make her a great ambassador for McLeod visitors. She is well-known and loved in the community.
While the pandemic has made Karen's job more challenging, it has also made her appreciate how important her work is to patients who need her.
Karen Lewis
Supervisor, Environmental Services
McLeod Health Loris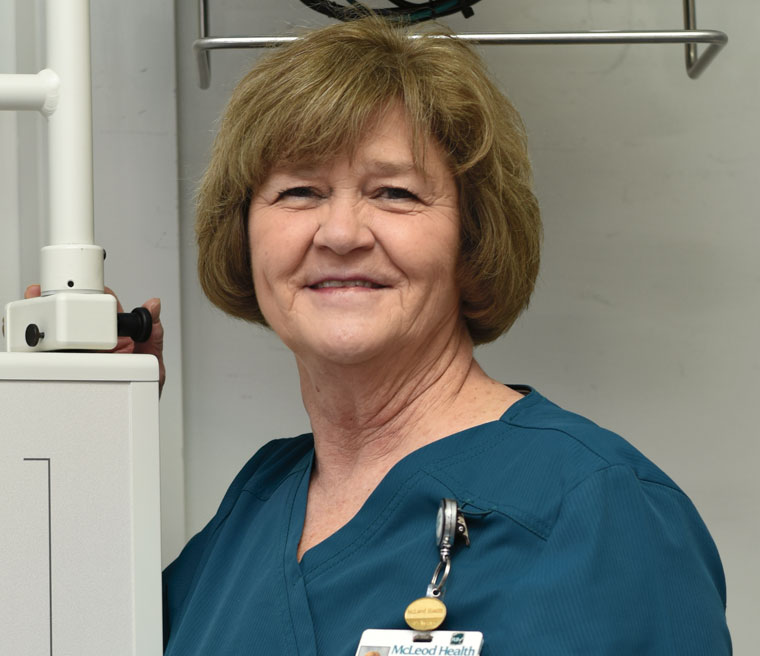 Janice has worked in Radiology Services for more than 45 years and witnessed firsthand the growth and expanded services of her department and the hospital. "When I started, we only had X-ray and fluoroscopy. The technology to better serve our patients is always advancing and improving to help provide diagnosis and treatment for our patients."
"We are here to care for our friends, neighbors and family during their time of need. I always try to make patients feel comfortable and at ease while undergoing diagnostic testing."
Helping others brings Janice great joy as well as working with her co-workers who are more like family.
"During the pandemic, I watched staff from various departments come together to serve our patients. We truly work towards one common goal of providing the very best healthcare."
Janice McNair
Radiology Technician
McLeod Health Clarendon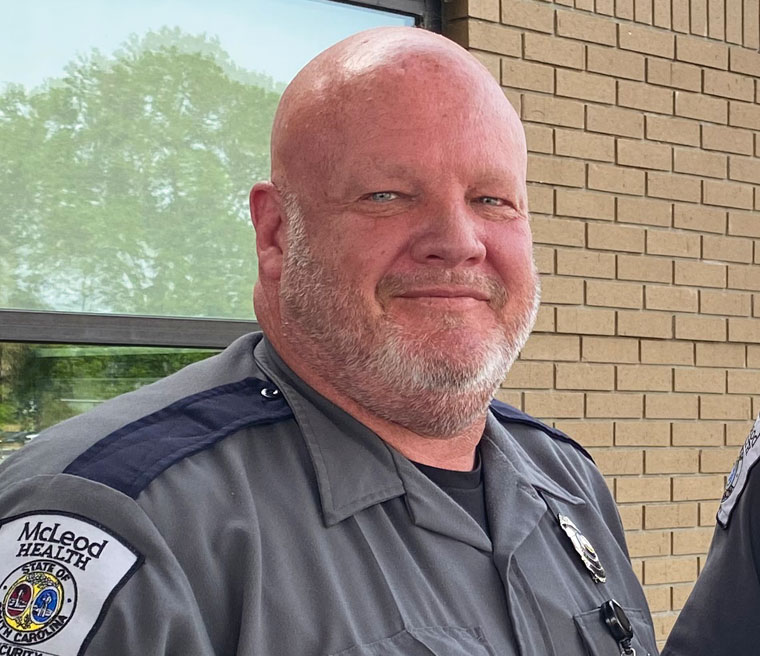 Kenny joined the Security Department at McLeod Health Dillon three years ago with more than 25 years of law enforcement experience.
Each day, Kenny and the Security team patrol the hospital and physician practices, safeguard entrances, and answer calls of any disturbances.
"Our team is excellent in dealing with any emergency situations that may arise inside or outside of the facility. We share a common goal of keeping our patients, visitors and staff safe when they walk into the building."
The COVID-19 pandemic brought many challenges – including visitation restrictions and mask requirements – but Kenny is proud of how all departments, including Security, came together to provide the best experience for the patient.
Kenny Miller
Security Officer
McLeod Health Dillon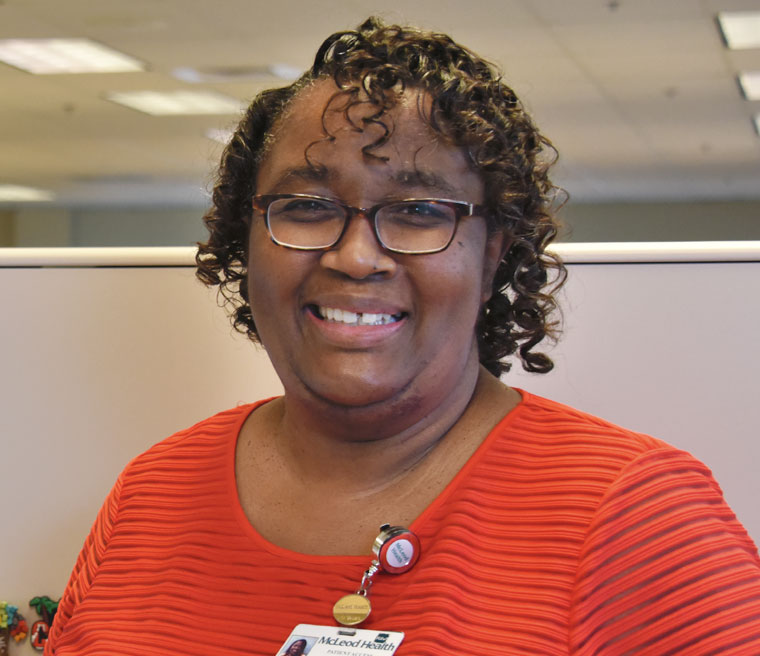 Jackie has been part of the McLeod Health team since 1999 and is an original member of the McLeod Reservations and Scheduling Department. As the Insurance Supervisor, Jackie ensures that her team is equipped with the necessary resources to complete the financial clearance of all patients prior to their date of service.
"I oversee the insurance eligibility and verification for patients presenting to all McLeod Health facilities, including scheduled and unscheduled outpatient procedures within the scope of Patient Access. Our patients are at the center of what we do and the work we complete must be timely and accurate. The environment is fast-paced and constantly changing.
"During the pandemic, ordinary tasks changed significantly but we quickly shifted. These challenges made us stronger. We believe patients have a choice and the patients we serve, choose McLeod."
Jackie Ingram
Insurance Supervisor
McLeod Health Patient Access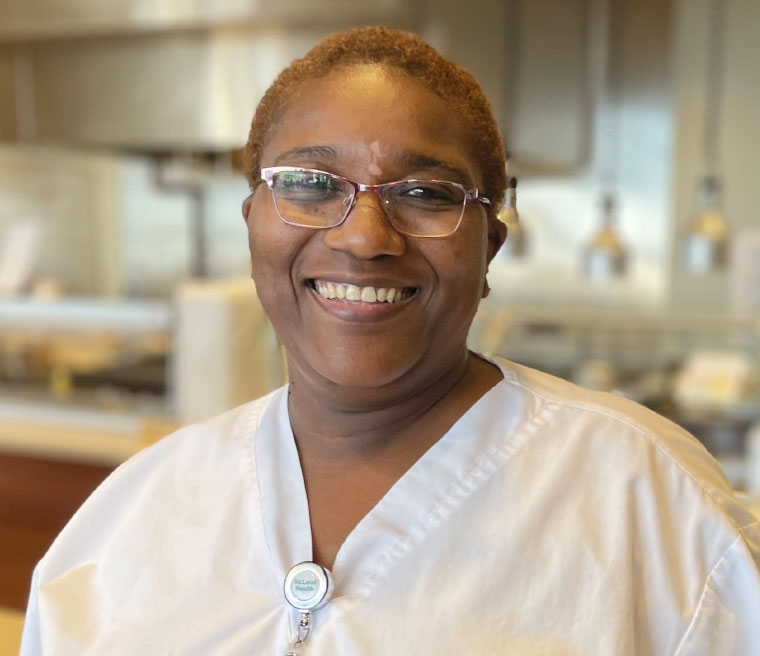 Sandra works as a Cashier in the Cafeteria at McLeod Health Seacoast. In addition to managing the cash register, she prepares the coffee and tea and keeps the dining room clean and ready for guests. Sandra's best quality is her friendly smile she shares with every guest.
"For staff, my goal is to be friendly, chat with them for a minute about their day and get them through the line quickly so they can get back to work. I also love meeting the visitors who are here to see their loved ones."
The COVID-19 pandemic required the cafeteria to implement additional cleaning and safety measures, and Sandra led this work.
"We consistently cleaned the tables, chairs, and equipment to maintain the highest safety standards for our staff and visitors."
Sandra Singleton
Cashier, Nutrition Services
McLeod Health Seacoast