Chest Pain Center Speeds Diagnosis & Treatment for Heart Attack Patients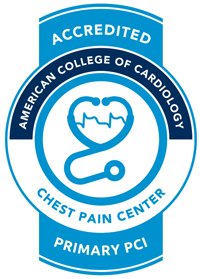 If you believe you are having a heart attack, CALL 911 IMMEDIATELY for transport. Do NOT drive to the hospital. EMS staff will begin treatment as soon as they arrive.
With a heart attack, time is of the essence. Failing to quickly re-establish adequate blood flow results in permanent damage to the heart. For this reason, every chest pain must be taken seriously.
From the Midlands to the Coast, McLeod offers a dedicated full-spectrum emergency cardiac care program to evaluate your situation before it gets worse and, in many cases, prevent a severe heart attack. The McLeod Chest Pain Center located within the Emergency Department in Florence, SC is staffed 24 hours a day, seven days a week by experienced health care professionals, who are especially trained in recognizing and treating a heart attack. The Chest Pain Center treats patients just a few paces away from McLeod's state-of-the-art interventional technology and diagnostics, as well as heart catheterization labs and premier open heart surgery suites.