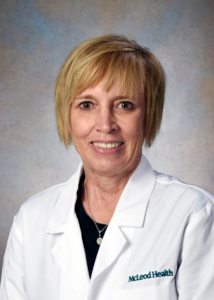 Terri Jaggers, MD
McLeod Digestive Health Center
Earlier this year, the American Cancer Society (ACS) published a report in CA: A Cancer Journal for Clinicians which indicated colorectal cancer cases are on the rise in young adults.
While the rate is dropping among people age 65 and older, largely because more older adults are undergoing recommended screenings, the Cancer Society stated that in 2020, 12 percent or 17,930 colorectal cancer cases will be diagnosed in people under the age of 50. Nearly 18,000 new colorectal cancer cases in this one age group is more than cervical cancer in all age groups combined at 13,800. ACS also predicted an estimated 53,200 colorectal cancer deaths with approximately seven percent or 3,640 deaths in adults younger than age 50.
The report further details that rates have been rising since the mid-1980s in adults 20 to 39 years of age and since the mid-1990s in adults 40 to 54 years, with younger age groups experiencing the highest increase.
What is perhaps most alarming in this report from the American Cancer Society involves millennials. This generation is twice as likely to develop colon cancer and four times as likely to develop rectal cancer when compared to young adults in the 1950s when the risk was at its lowest.
While we do not know for certainty what is causing the rise in people younger than 50 who are developing colon cancer, it does demonstrate the importance of prevention and early screening.
What is Colon Cancer?
Colon cancer is the third most common cancer in men, after prostate and lung cancer and second most common in women, after breast cancer.
At McLeod, colorectal cancer is typically our fourth leading cancer site. However, in the most recent McLeod Cancer Report for 2019, colon cancer was the third leading cancer site.
Colon cancer is considered a silent disease. Most of the time there are no symptoms. The symptoms that people may experience include a change in bowel habits, abdominal pain, blood in the stool, and weight loss. If individuals have these symptoms, the disease may already have advanced.
When Should You Be Screened?
The most important action individuals can take to prevent colon cancer is to be screened regularly. However, one in three people between the ages of 50 and 75 have not been screened.
Two years ago, the American Cancer Society updated its colorectal cancer screening recommendations to include that adults should start screening at age 45 instead of 50. However, the U.S. Preventive Services Task Force and other health organizations in the United States, still recommend routine screening for colorectal cancer begin at age 50.
People who are at high risk, because of family history or because they have other health conditions that predispose them to develop colon cancer, should be screened at an earlier age. There has also been some evidence that African-Americans should start screening at 45 years of age.
If you have a family history of colon cancer — family members who had colon cancer before age 60 or more than two family members with colon cancer, or conditions which predispose you to the disease such as familial polyposis, ulcerative colitis, or Crohn's disease, then you should be screened at an earlier age.
What is the Screening for Colon Cancer?
The gold standard for the diagnosis of colon cancer is colonoscopy. There are other tests available but they are not as reliable or effective as colonoscopy. To prevent colon cancer, individuals should have a colonoscopy on a regular basis. While colonoscopy is not a test most people look forward to undergoing, it is one of the few diagnostic procedures known to save lives.
Using colonoscopy, we look for polyps, which are small growths that can develop into cancer over time. If we can remove polyps before they have a chance to develop into colon cancer, we are preventing colon cancer.
We are often able to remove colon polyps during colonoscopy and no further surgery is required. Once a person develops colon cancer, they may require additional surgery. Ten to 20 percent of the time when we diagnosis a patient, they already have advanced cancer. At this point, they may need further treatment with surgery, chemotherapy or radiation.
In about 60 to 70 percent of patients, we find no polyps. In 30 to 40 percent, we do find polyps. Most of the time, the polyps are small and can be removed during the actual colonoscopy.
If we don't find any polyps, we recommend a colonoscopy screening again in ten years. If we find polyps, then we want the patient to be screened again in three to five years.
If a patient has polyps, I generally recommend that they change their lifestyle habits by increasing their fiber intake and doing more physical activity. There are also some studies that have suggested aspirin can decrease the risk of developing colon polyps and colon cancer. However, individuals should consult their physician before starting an aspirin regimen.
Prevention and Survival
Some conditions that predispose you to colon cancer include family history, eating a lot of red meat and processed meat, obesity, little to no physical activity, and a lack of fiber and vitamin D in your diet. In addition, smoking can increase the risk for developing colon cancer as well as excessive use of alcohol.
The survival rate for colon cancer depends on the stage of the disease. If it is caught at an earlier stage, there is almost a 90 to 100 percent survival rate. If the cancer has advanced to Stage III or IV, the survival rate goes down. But, if you combine all of the stages, 63 percent of patients with colon cancer have survived beyond five years with a combination of surgery, chemotherapy and radiation.
Individuals of all ages need to be aware of the symptoms of colon cancer and should discuss any concerning signs or symptoms with their primary care physician.
Dr. Terri Jaggers cares for patients at McLeod Digestive Health Center. To schedule an appointment, please call (843) 777-7166.